In an effort to visit every continent in our world, I decided to come visit Australia this year.
To say that it was a planned trip may not be fair, since I did quite a bit of research, and was helped by some great locals I was put in touch with. So far in my first 3 days I have done non stop touring. There is so much to do and see that I'm trying to do as much as possible every day. Including trying to get over 2 full days of traveling and the expected jet lag from flying to the opposite side of the planet.
Day 1: Arrived in Sydney after a great set of flights on Thai Airways (business and First class). In an effort to fight off jet lag I decided to go out and start exploring the city as soon as I could. Ian my first hours I covered a lot of ground, I managed to walk all over town and visit the circular quay area, the opera house and the botanical gardens. On a whim I decided to join a "free" walking tour of the city delivered by a very charismatic local tour guide, called Michelle. She walked us all over town visiting all the major landmarks and delivering some great information about these sights. I probably managed to walk for about 8 straight hours, which had the desired effect, by 6 pm I was drained. After a wonderful Greek dinner around the corner from my hotel at a restaurant called Medusa, I went straight to bed since I had an early wake up the next morning...
Day 2: Proved to be even more exhausting than the first day... Due to the jet lag, I couldn't sleep past 5 am, which will make for a very long day. Because I was told I'd have great weather on this day, I was convinced to book a tour to the blue mountains, which proved to be a great decision. This tour picked me up at 7:40 am and we set off around 8 from their bus terminal.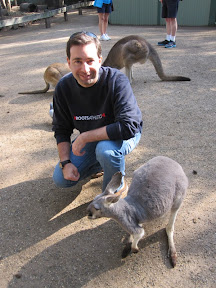 Our first stop was at an animal preserve called Featherbend wildlife park. In this park we got to pet a koala and kangaroos, see dingoes, alligators, snakes and a large amount of birds native to Australia. After the visit to the park we took off towards the Blue Mountains, our next stop was Echo Point, which is a great lookout with commanding views of the Three Sisters and the rest of the mountains. After a few pictures, we headed to Scenic World that allowed us to see the blue mountains from multiple vantage points and attractions. Including a cable car ride, a very steep train ride into the valley, some well placed walkways and another ride up from the valley. At one point I even managed to go "off-track" enough to almost get totally lost in the valley area. I will admit that that's where I captured the best views, but after 30 mins of walking around I realized I might be a bit "lost", so I doubled back and managed to meet up with the tour bus without a problem.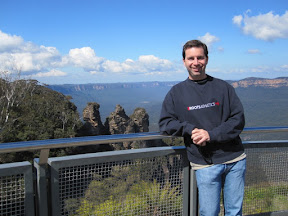 Our next few stops took us to the small quaint town of Leura and then on our way back we stopped at Sydney's Olympic park (site of the 2000 Olympics). On our way back our great bus driver, Greg, dropped us off at a Ferry terminal, off the Paramatta river, where we boarded a ferry that took me back to Darling Harbor a few blocks away from my hotel. After another long and exhausting day I had a cheap dinner at a riverfront restaurant offering 10 dollar steaks, which I will have to say for this town is a CHEAP meal... And still, the steak was nothing to write home about, but I was probably too tired to enjoy anything more than that. By spending a couple of hours at the hotel bar checking email, I managed to stay awake until after 10 pm, helping me reset my clock to local time... At least that was the intent, before Day 3...